Why do I need to work
with Metasearchers?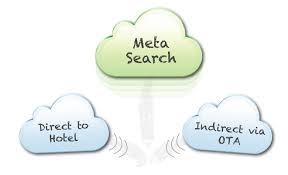 In industries as dynamic as hospitality and tourism, it becomes key to be attentive to all changes in competitive power relations.
 In this sense, metasearch engines, or travel and hotel price comparators, have recently emerged strongly as high-impact players and as a new opportunity to diversify the sales and marketing strategy of independent hotels.
What is Metasearch Engine?
The most appropriate metasearch engine definition is a website or platform that fulfills the following two basic functions:
 1. Compiling information from multiple travel/hotel industry websites (online travel agencies, reputation rating sites, airlines, hotels, travel guides, etc), summarizing and ordering data, so that the traveler can easily access the information they search for.
 2. Compare the prices published on the different websites and allow online booking: accommodation, transportation (air, land and sea), tours and car rental companies.
What does a metasearch engine do?
Since metasearchers allow travelers to search and compare comfortably in one place the same prices that they would have found scattered in several websites, after hours of research, the greatest advantage of metasearch engines is to make the consumers decision making process easier and to allow them to find the best price available for the services they intend to hire.
How can we be part of a metasearch engine list? 
The answer is "Having a Booking Engine that connects with these platforms".
Which are the metasearch engine best options in 2021?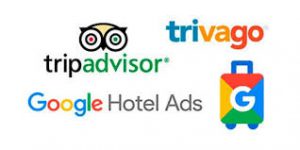 The most relevant metasearch engines for independent hotels are:
Trip Advisor –> LINK:

although it started out as a site where travelers could leave reviews of the hotels where they had stayed, it later diversified its options and included its TripConnect and Instant Booking tools, which allow you to compare room prices.
Trivago  –> LINK:

one of the players that has grown the most over the last year, with its Hotel Manager Pro tool, which allows you to publish direct prices and attract more visits to the hotel's website.
Google –> LINK:

the Internet

search engine

giant has naturally made great strides in its determination to become a major player in the online travel market. The launch of its Hotel Ads service allows hotels to receive

direct bookings

from Google, with a click bidding scheme similar to Google AdWords.
Kayak –> LINK:

of the previous 3, it has less traffic and relevance, although it is definitely among the "leaders" in the sector. Its Hotel Manager tool works identically to Trivago.
HotelsCombined –> LINK

: This metasearch has grown steadily in the last years, being ranked on first place as the best prices platform when compared to Trivago and TripAdvisor. 
Would you like us to explain how you can get the most out of metasearch engines? 
Schedule a free call and we'll tell you all about it. CLICK ON THIS LINK TO SCHEDULE A DEMO –> LINK
Why are metasearch engines important for independent hotels?
Metasearch engines are a huge opportunity for hotels, since the "real time" price comparison is not limited to the prices published in the traditional OTAs, but also allows to show the DIRECT rates that hotels offer through their Booking Engine on their own Website.
  The latter is a revolutionary change, as it opens the door for hotels to compete on a more equal footing with online travel agencies, and thus gain greater control over their pricing and marketing strategy.
 The positive effect of this scenario for hotels is clear to see:
 

Advertisement of preferential rates on their booking engine in order to stimulate direct channel sales.

Saving on the high booking commission costs paid to OTAs.
What does a Hotel need in order to publish rates directly in a metasearch engine?
Basically, the following conditions are required:
 

To have a hotel profile in the metasearch engine, detailing: photos, descriptions, services and contact information.
Use a Booking Engine that has an officially certified connection to publish prices in the metasearch engine –>

BOOKING ENGINE
Allocate an advertising budget, since metasearch engines charge for each visit that has clicked on the link where the direct booking engine price is published.

Conclusion
In summary, the changes brought about so far by metasearch engines have opened up great possibilities for independent hoteliers in their quest to achieve a more balanced equation in their online distribution and booking strategy.
The future evolution of these players remains to be seen, since the rivalry that has begun to be generated with online travel agencies for the control of electronic sales channels, hints that there will be new developments and rearrangements in the near future, with a possible scenario where the lines of differentiation between the two players will tend to blur.