Property Management System: Definition, Functionalities and more!
What is a property management system for hotels? Which are some of its functions? These will be some of the questions answered in this post.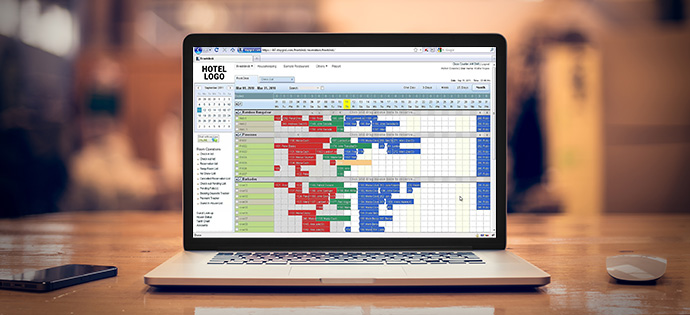 Last week, we introduced you to one of the most intriguing concepts in the hospitality industry, the revenue management, today we will talk about another concept that is very much discussed among the accommodation business: Property Management System or worldwide known as PMS. 
If you are in the accommodation industry you must have noticed that for running a successful business delivering excellent customer service seems no longer to be enough. On the contrary, we are challenged to learn and be an expert in many other subjects such as Digital Marketing, Software Management and not to mention taking care of the day-to-day operations that each department requires. 
Automating these processes with a property management system helps Hotel Managers to keep operations as seamless and easy as possible.
So let's get stuck in…
What a Property Management system is?
Property Management Systems are usually referred to as PMS. A quick. Property management systems definition would be ´systems that facilitate the day-to-day operations of any accommodation business such as reservations, front desk, housekeeping, maintenance, billing and revenue data analytics.´ As it can be quite obvious, they offer managers the possibility to handle the entire property with a unique piece of software, replacing old-fashioned, paper-based methods nowadays considered inefficient and time-wasting. The main aim of a PMS is to speed up and optimize the existing processes to save hotel managers time and resources.
Traditionally PMS have been associated with big hotels or resorts, however, nowadays property management systems are used by all types of properties such as small hotels, bed & breakfasts, vacation rentals, etc. 
To take the discussion further, let's see which are the must-have functions or features a good PMS should include. 
What to look at when searching for a PMS?
At this point you have already known that not all the property management systems are created equally. Therefore, when searching for this solution you have to consider a few important points:
First of all, look for a hotel management system that can provide you with an intuitive and accurate way to manage your daily operations such as reservations, check-ins, and check-outs, housekeeping status and billing. The main sign of well-designed software is that it requires little or no additional training.
Secondly, you would rather go with a system that offers modular functionality. The reason why is that you could easily choose which modules are required and fit best with the type of property you have and keep the rest aside without spending money unnecessarily on it. 
Additionally, a good property management system must allow integrations. From basic channel manager integration to control accommodation availability to more customized apps and extensions to handle marketing strategies, revenue management and data analysis, sales, etc. 
Last, but not least, when searching for a PMS you should consider the data collection and guest management function. As we all must agree, the guest experience is the centre of any accommodation business so you need to make sure you are able to record guest preferences, guest history to acknowledge if a guest is a repeat or new, contact details to avoid requesting the same information every time a guest stays with you, etc. Apart from allowing data collection and storage, a good PMS must have reporting functionality to easily sort and export the type of information you are looking to work on such as specific marketing and advertising campaigns.
Now let's get a closer look by outlining some of the best Property Management Systems in the hotel industry.
Opera by Oracle is a robust PMS for hotels of any size -mostly suggested for medium and big size properties- allowing them to centralize control over all operations and provide greater customer experience online and offline.
Easy Front Desk PMS offers the best quality-price relation, offering a complete, innovative product, it's always in constant evolution according to market needs. Recently added, an express check in module which allows guests to check-in from their devices 24/7. Upon arrival, they only have to show their passport for identity verification. Bye bye to long queues at reception. Welcome to safer procedures! 
Protel is an intuitive PMS. It offers seamless communication between departments, as well as billing and invoicing functions to help keep track of every transaction. 
Roommaster PMS is flexible as it adapts to the needs of all types of properties. It provides the tools to manage business efficiently at an affordable price. 
Cloudbeds PMS it´s a user-friendly and robust system, which helps to provide an exceptional and safe experience for guests.